Want to reach a wider audience for your product listings? The key is to diversify your sales channels. By adding more places for potential customers to buy your product, you stand to sell more—while avoiding putting all your eggs in one basket.
This is true even for Amazon sellers, who already leverage one of the largest ecommerce platforms in the world.  A great place to expand your online reach is Shopify, an ecommerce platform that allows anyone to create their own online store.
Maintaining your own standalone ecommerce store for your brand is important: it's an asset that you own, versus selling alongside many other business owners on a marketplace like Amazon. Both Amazon and Shopify offer unique benefits for ecommerce entrepreneurs—why not reap all of them at once?
Here's another selling point for sales channel diversification: you can use your FBA inventory to fulfill your Shopify orders.
That's right! Instead of worrying about storing and shipping items on your own or finding a third-party fulfillment center, you can use Amazon's Multi-Channel Fulfillment (MCF) via FBA.
Let's go over why you should integrate Amazon FBA with Shopify, how to connect your accounts and start fulfilling your Shopify orders through Amazon, how much it costs to use Amazon MCF, and how syncing Shopify with FBA impacts customer experience.
Pros and cons of using FBA to store and ship your Shopify orders
How to connect your Shopify account to your Amazon seller account
How much does it cost to use Amazon Multi-Channel Fulfillment?
How will switching to Amazon fulfillment impact customer experience?
Pros and cons of using FBA to store and ship your Shopify orders
Pros:
Amazon will store your products for you. You don't have to worry about using your home, leasing warehouse space, or using another third-party fulfillment center.
Amazon will pick, pack, and ship the orders for you. 
Fast shipping for your customers. Amazon passes on its great shipping rates to its sellers—their rates are typically much more affordable than if you were to get a shipping label yourself.
Amazon takes care of the packing. You don't need to worry about purchasing shipping boxes, envelopes, packing tape, bubble wrap, etc.
Faster scaling. Amazon MCF allows you to scale faster so you can focus more on growing your ecommerce store.
Non-branded packaging. Your MCF orders will be sent in unbranded packaging–Not in Amazon packaging.
Few monthly fees. Besides storage fees, no recurring monthly costs are involved—you only pay a fulfillment fee when you receive an order.
Faster shipping. Your inventory will automatically be placed in different Amazon warehouses across the country, allowing for faster shipping speeds to your end customers.
Cons:
Fees for unsold items. If your inventory does not sell well and you have inventory left sitting in Amazon's warehouses, you will pay more in monthly storage fees.
You are responsible for your own customer service. This is because the orders are placed on your own ecommerce store.
National orders only. Multi-channel fulfillment will not fulfill international orders, unless they are media products such as books, music and movies.
You need an Amazon Seller account. An Amazon Seller Central account is required to use multi-channel fulfillment.
How to connect your Shopify account to your Amazon seller account
Once you have your Amazon and Shopify accounts created, connecting the two is simple with the use of Amazon to Shopify Integration apps. Let's get into how to connect Shopify and Amazon.
Step 1
Sign in to your Shopify account and go to the Shopify app store.
Step 2
Once in the Shopify app store, search for Amazon MCF. You will see a few apps that can help you connect your Shopify store to Amazon FBA.
Each of these apps will integrate your Amazon store with your Shopify store and sync your FBA inventory with the products in your Shopify store catalog. The apps will then automatically send the orders to Amazon MCF to be fulfilled.
Amazon has its own free Shopify app–Amazon MCF: US Fulfillment.
Choose an app that works best for you, but most of them have a monthly subscription fee, whereas Amazon's app is free.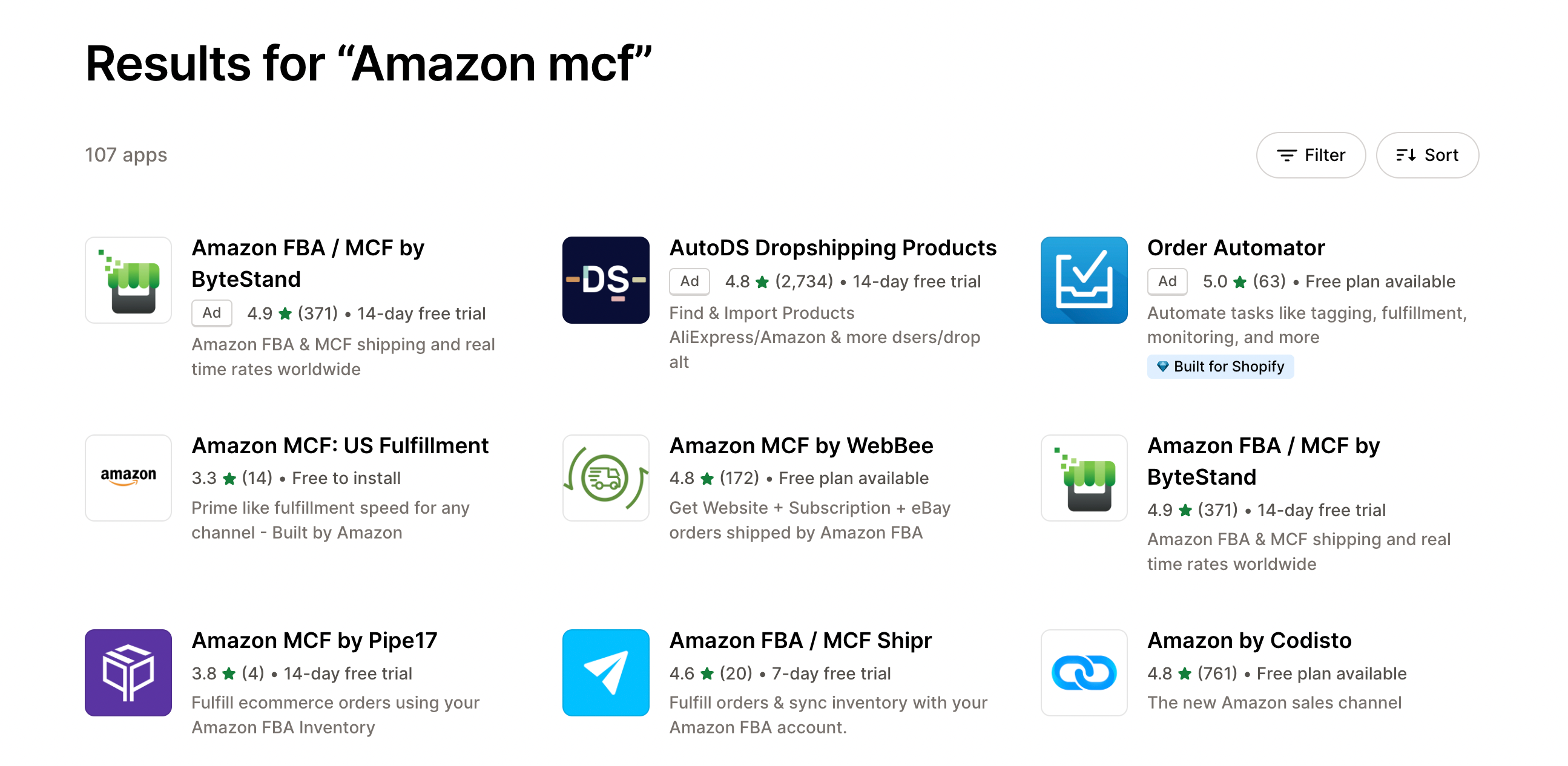 Step 3
Choose an integration app and install it on your Shopify store. For this example, we will use the free Amazon MCF app.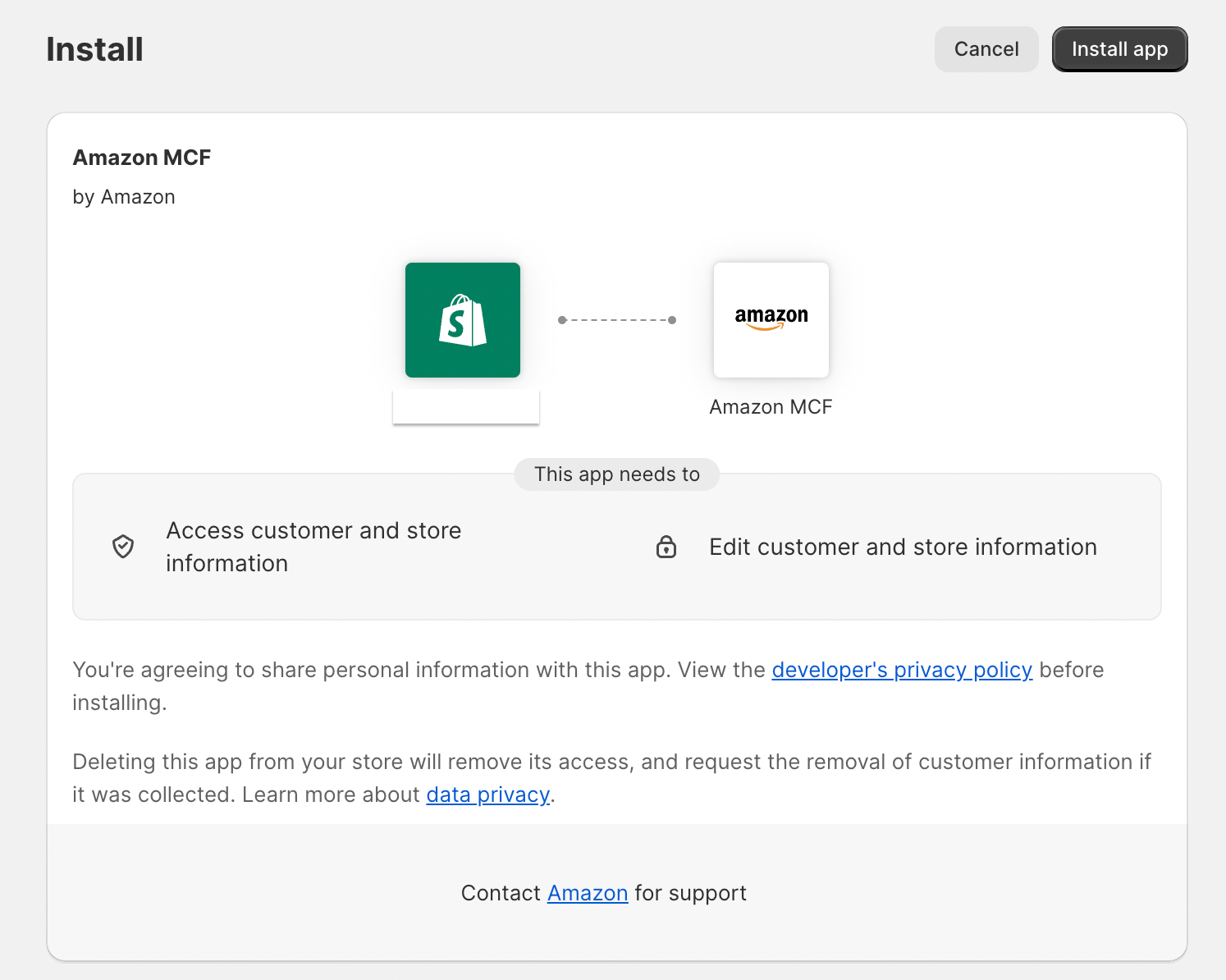 Step 4
Amazon advertises that is it easy to set up this app with your Shopify store.
Connect your Amazon Seller account
Verify your inventory catalog and shipping settings
Match your Shopify SKUs with your Amazon SKUs
Once it is connected, Amazon will automatically fulfill your Shopify orders using unbranded packaging.
Once the app is installed, click "Open app."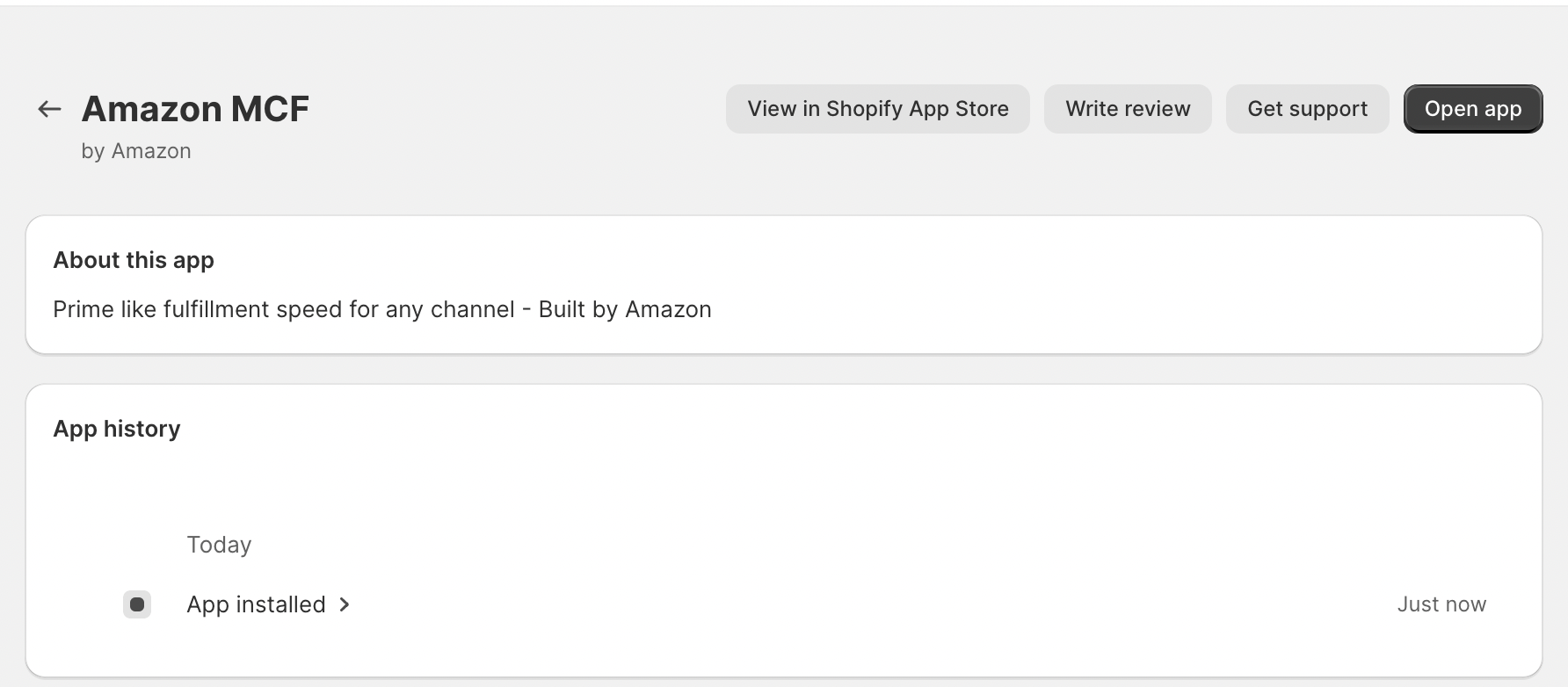 Then log in to your US Amazon Seller account.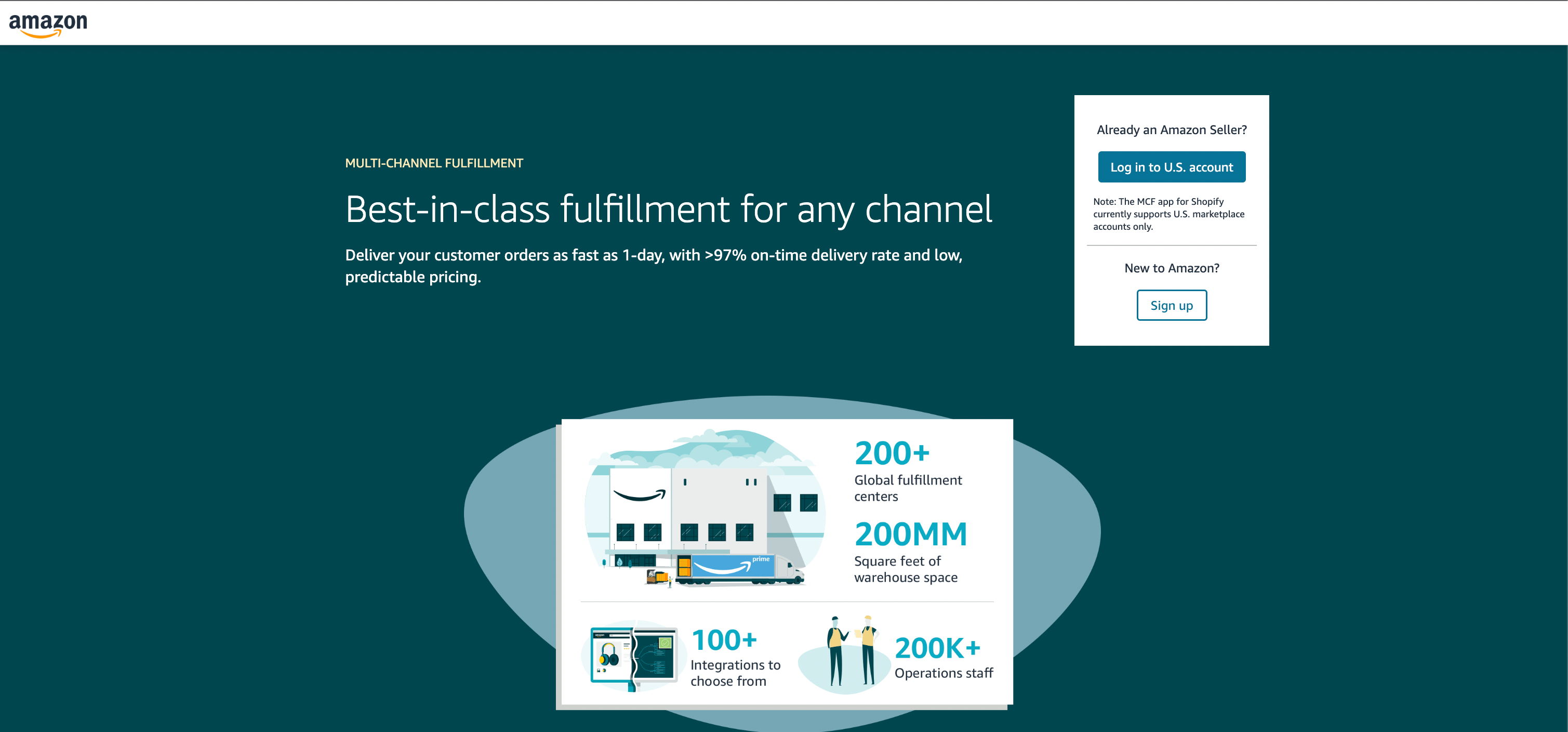 Step 5
Follow the steps in Seller Central to complete integration.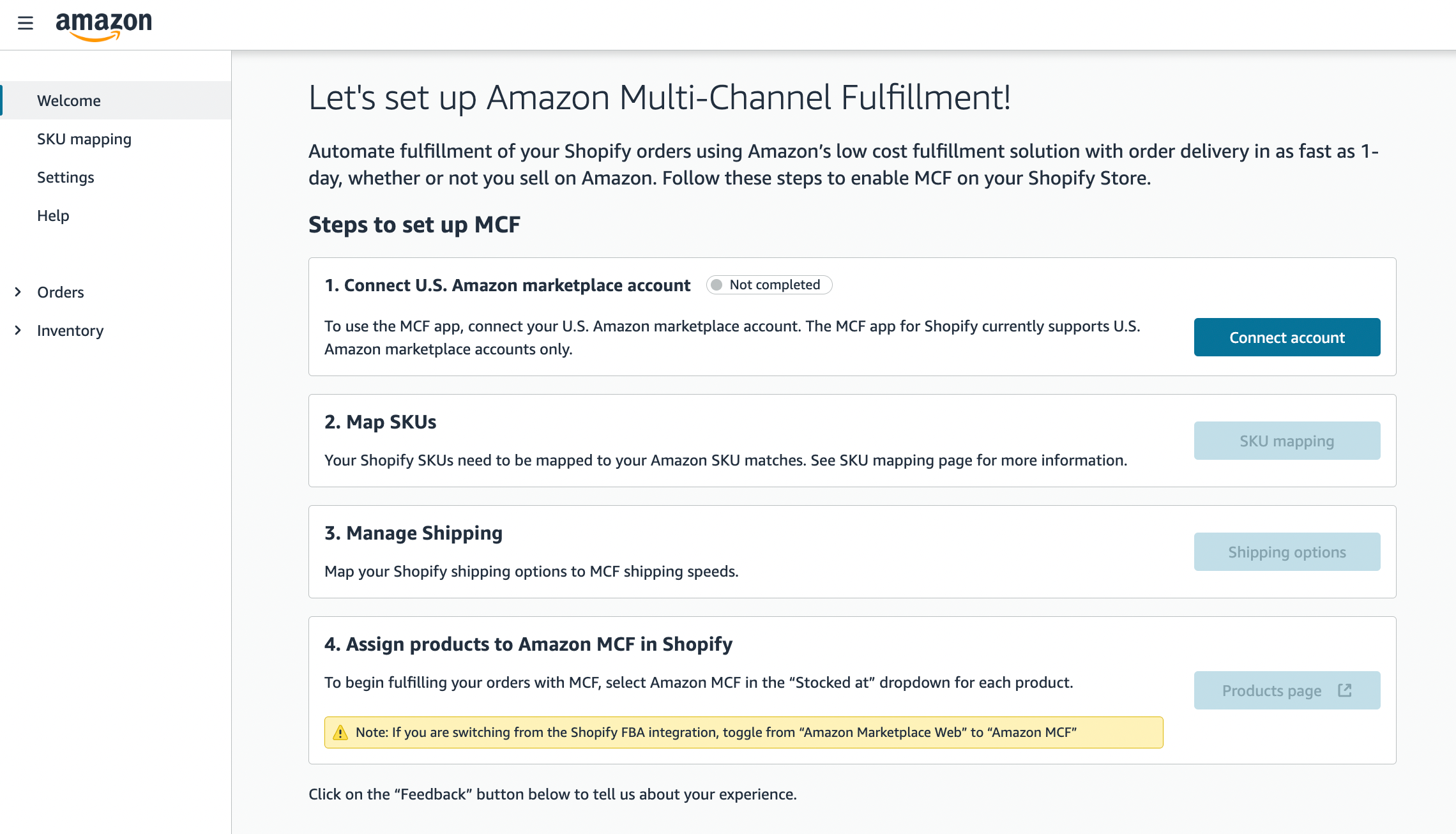 After completing the steps above, your Amazon and Shopify accounts will be connected.
How much does it cost to use Amazon Multi-Channel Fulfillment?
Since you are utilizing Amazon's Fulfillment Network to store and ship your Shopify orders, you'll still need to pay Amazon's monthly storage fees.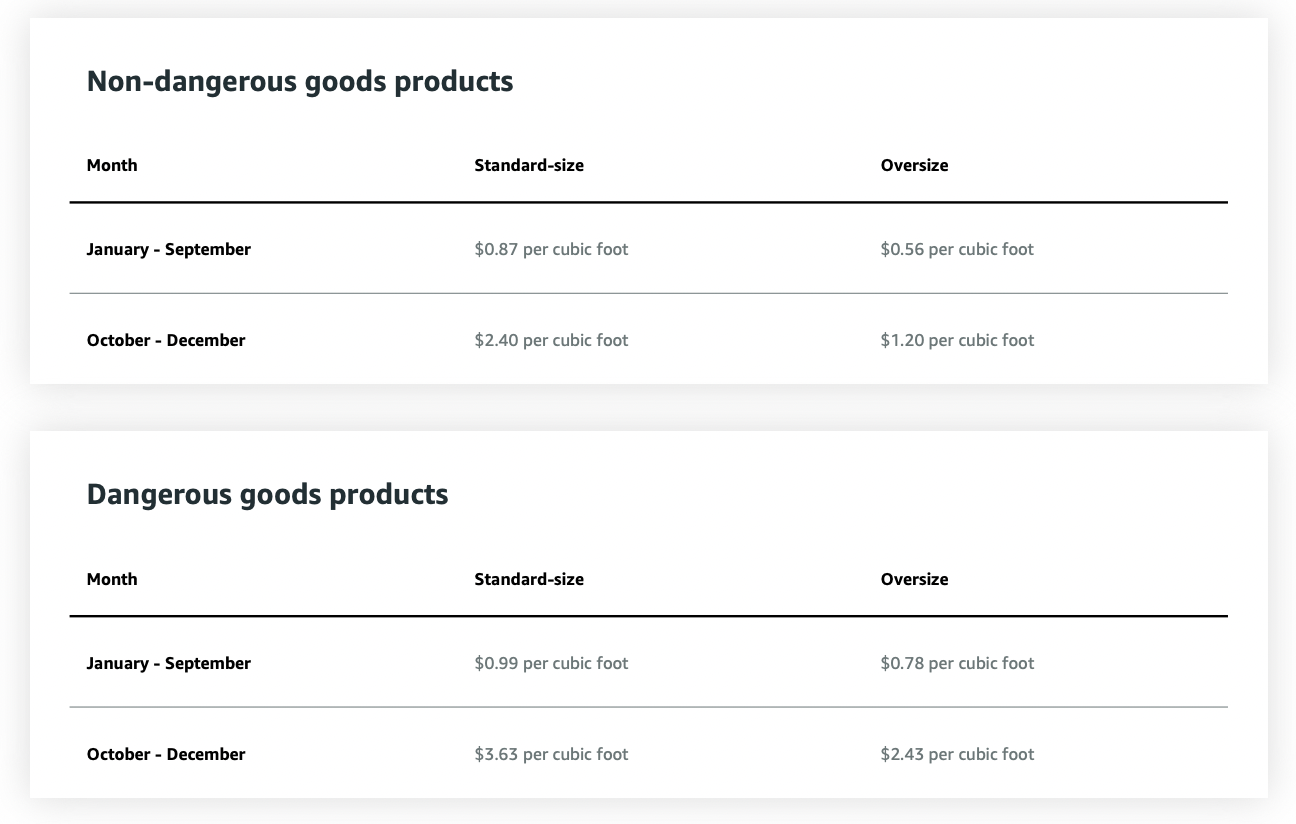 On top of that, you will need to pay the fulfillment fee that includes picking, packing and shipping your items.
As we went over earlier, the fulfillment fees will be based on the shipping speed your customer chooses, as well as the size tier your item falls under. Of course, you can pass that cost onto your Shopify customer by charging more for shipping.
Here is the breakdown of the fulfillment fees you will need to pay per unit shipped, based on shipping speed.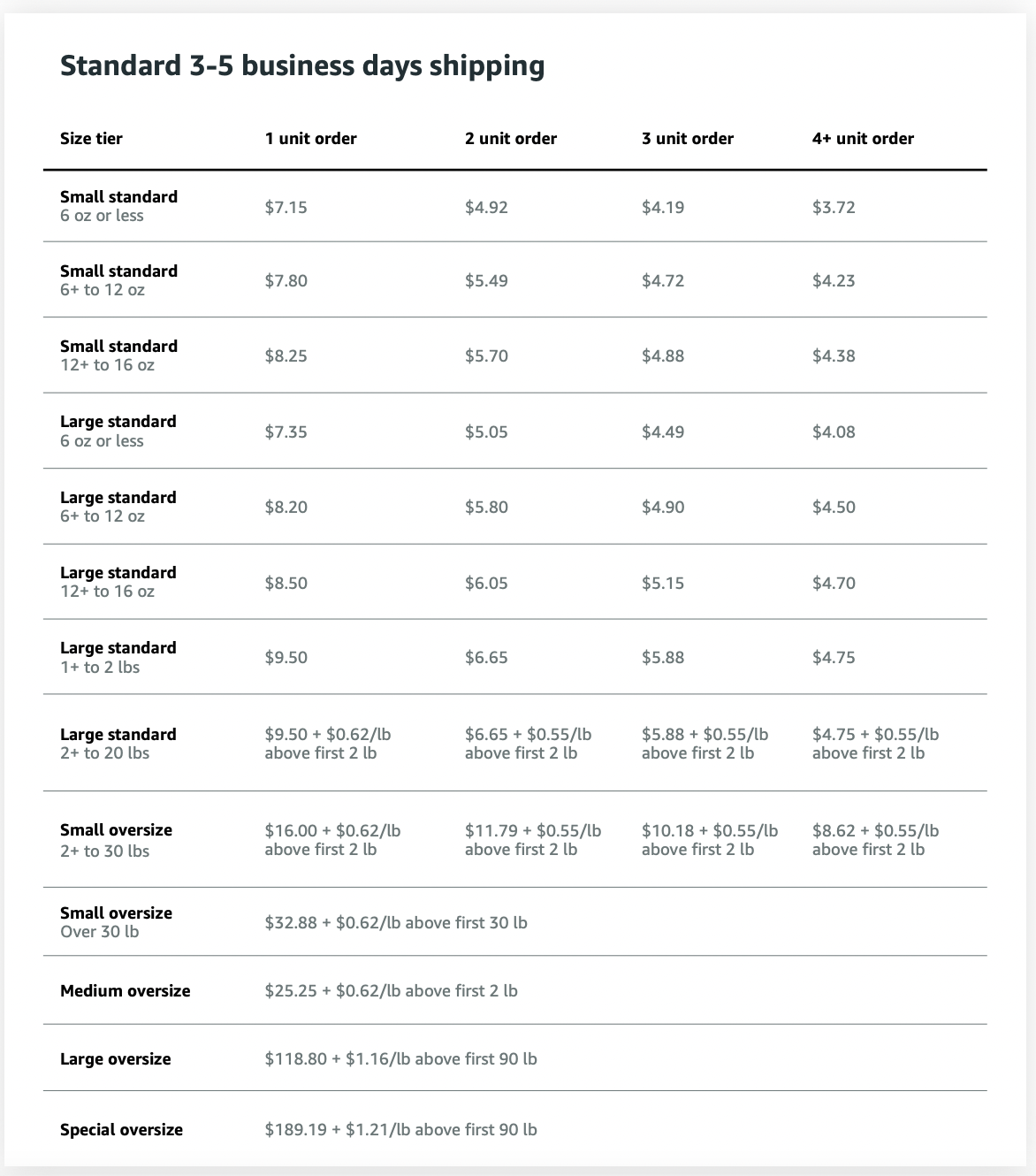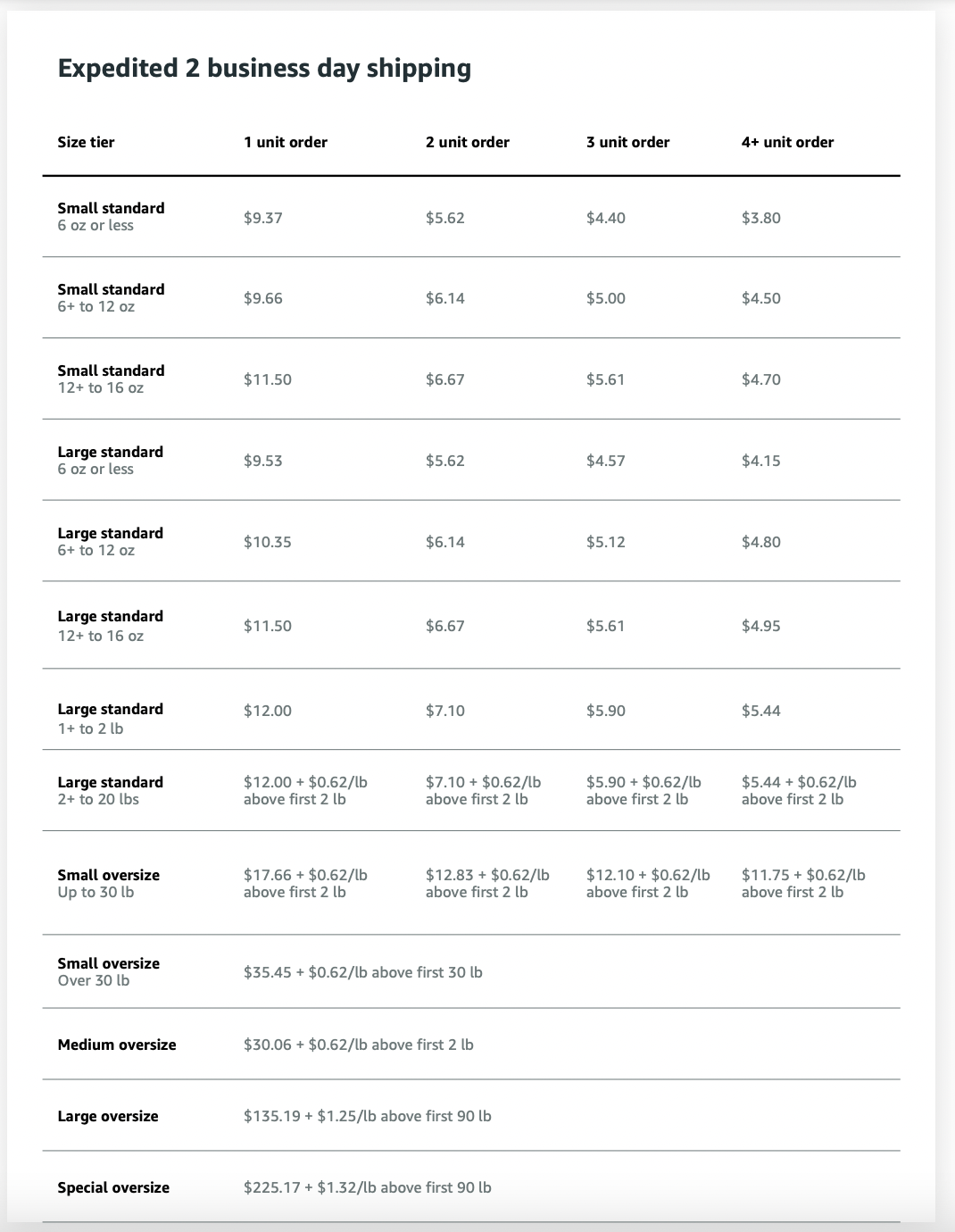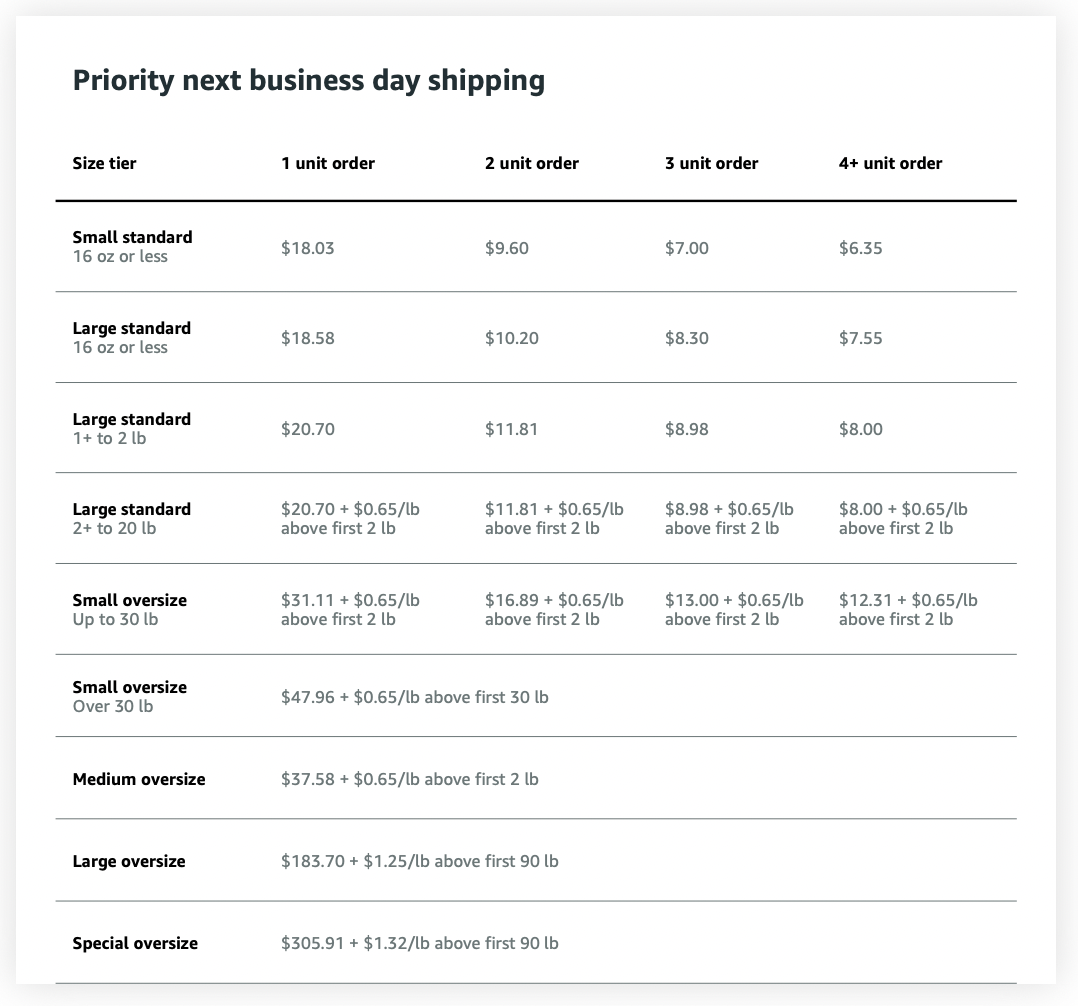 As you can see, the fulfillment fees charged by Amazon are fairly affordable considering what goes into shipping your orders.
The fulfillment fees are slightly higher than if your order was placed on Amazon.com but you will not be paying Amazon a referral fee for each item sold, which is typically 15%.
How will switching to Amazon fulfillment impact customer experience?
With fulfillment by Amazon, customer experience will likely improve due to Amazon's fast and accurate shipping capabilities. Even with standard shipping, your customer will receive their order within 3-5 business days.
Enable Amazon Multi-Channel Fulfillment today!
Thanks to affordable fulfillment fees, a long list of benefits, and the availability of automation options, the decision to enable Amazon fulfillment for your Shopify orders is an easy one to make.
Have you integrated Amazon FBA with Shopify and seen improved sales? Let us know about your experience in the comments!